Every item on this page was curated by an ELLE Decor editor. We may earn commission on some of the items you choose to buy.
These Vintage Photos of Celebrities in Their New York City Apartments Will Take You Back in Time
Peek inside the homes of Marilyn Monroe, Louis Armstrong, Yoko Ono, and more.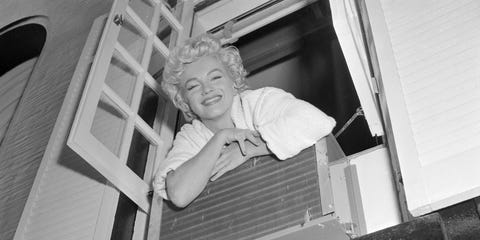 All different kinds of famous people have called New York City home over the years—from artists to actors and politicians to athletes. Some of them lived the glamorous life in sky-high penthouses, but many started out in far humbler abodes. We're taking you inside the apartments of some of NYC's most illustrious residents of the past century—from luxurious Upper East Side digs to artsy spots in the Village.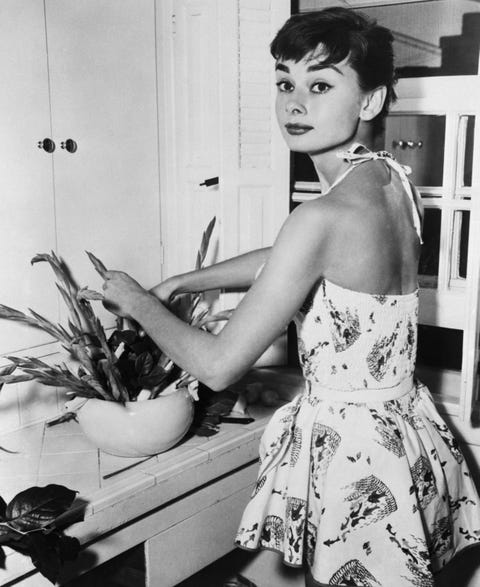 Audrey Hepburn
Actress Audrey Hepburn arranges flowers in her New York apartment in 1954. Her film Sabrina would debut later that year.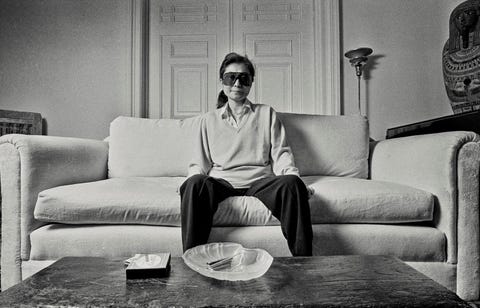 Yoko Ono
Since 1973, multimedia artist Yoko Ono has resided in New York's iconic Dakota building on Central Park West. Here, she's pictured in the apartment in 1980, one year to the day after the murder of her husband, John Lennon.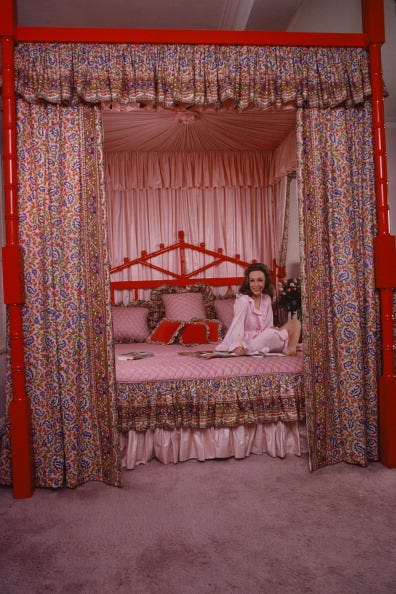 Susan Wood/Getty Images
Getty Images
Helen Gurley Brown
Businesswoman Helen Gurley Brown—she served as editor-in-chief of Cosmopolitan and penned the groundbreaking Sex and the Single Girl in 1962—looks pretty in pink in her Central Park West home in 1979.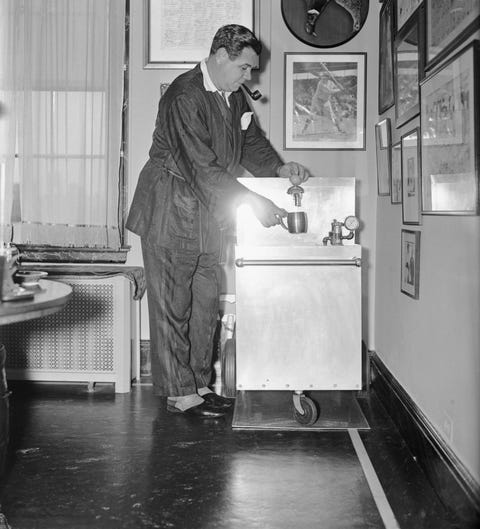 Babe Ruth
Baseball star Babe Ruth lived in multiple New York City apartments during his tenure as a New York Yankee and afterward. In 1935, the year he retired from baseball, he had a beer cooler inside his home, as well as plenty of baseball memorabilia.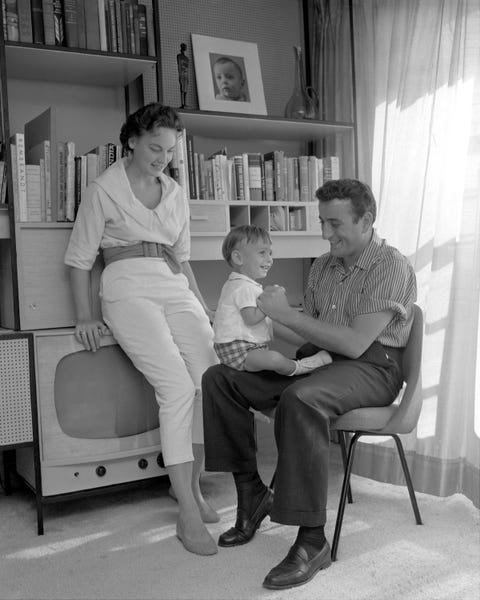 New York Daily News Archive
Getty Images
Tony Bennett
Queens-born crooner Anthony Dominick Benedetto, better known as Tony Bennett, lived with his first wife and eldest son in the Riverdale section of the Bronx. The building was reportedly the Briar Oaks, a luxury co-op.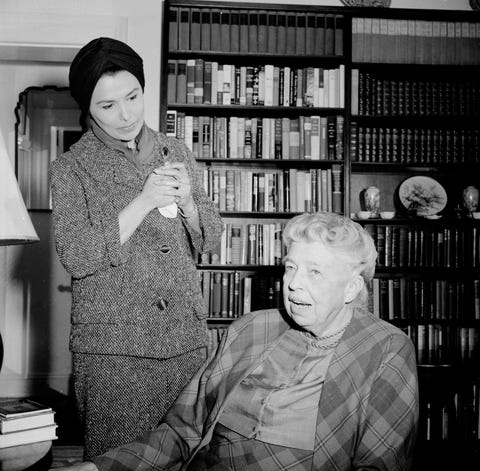 ABC Photo Archives
Getty Images
Eleanor Roosevelt
Dancer and civil rights activist Lena Horne visits former First Lady Eleanor Roosevelt. At the time, Roosevelt lived at 55 East 74th Street, a townhome she co-owned with her friend, Dr. David Gurewitsch, and his wife, Edna.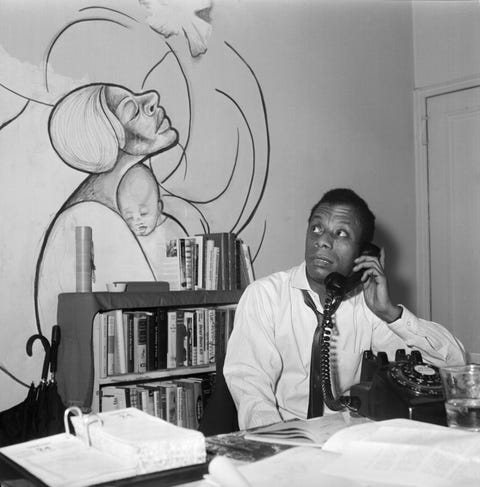 James Baldwin
Writer James Baldwin was born and raised in Harlem, but lived all across New York City during his life. This photo was taken in 1963, the year he published The Fire Next Time.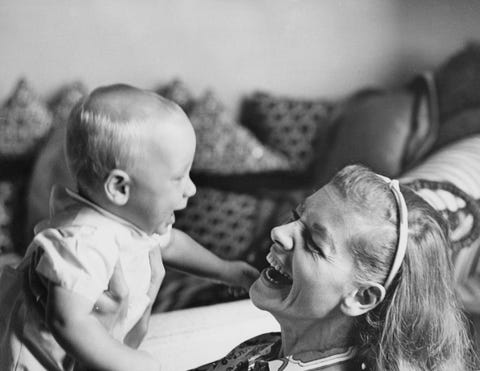 Lauren Bacall
From 1961 until her death in 2014, actress Lauren Bacall lived at the Dakota on the Upper West Side. Here, she's pictured in her apartment with her son, Sam Robards.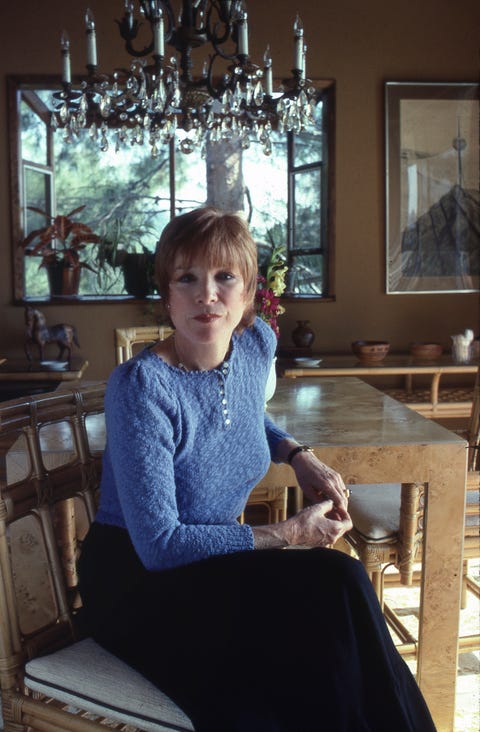 Shirley MacLaine
Leading lady Shirley MacLaine has had a seven-decade career spanning acting, singing, dancing, and even writing. Here, she's pictured in her New York City apartment, circa 1979.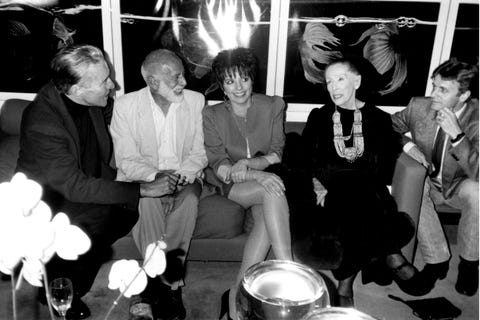 Patrick McMullan
Getty Images
Halston
In 1987, designer Halston hosted the Benefit for the Martha Graham School of Contemporary Dance at his home. Here, he (far left) is pictured with Jerry Robbins, Liza Minnelli, Martha Graham, and Mikhail Baryshnikov (left to right). See his apartment, featured in House Beautiful in 1977, here.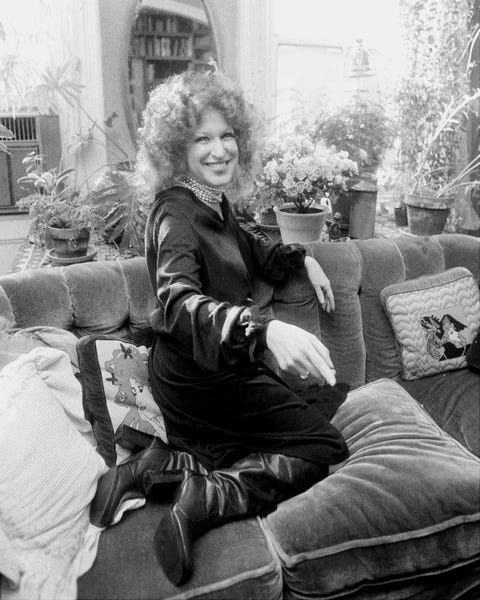 New York Daily News Archive
Getty Images
Bette Midler
Before moving into an Upper East Side penthouse, the singer and actress lived on Barrow Street in the artsy Greenwich Village. She moved to New York from Hawaii, where she was born, in 1965; this photo was taken a decade later.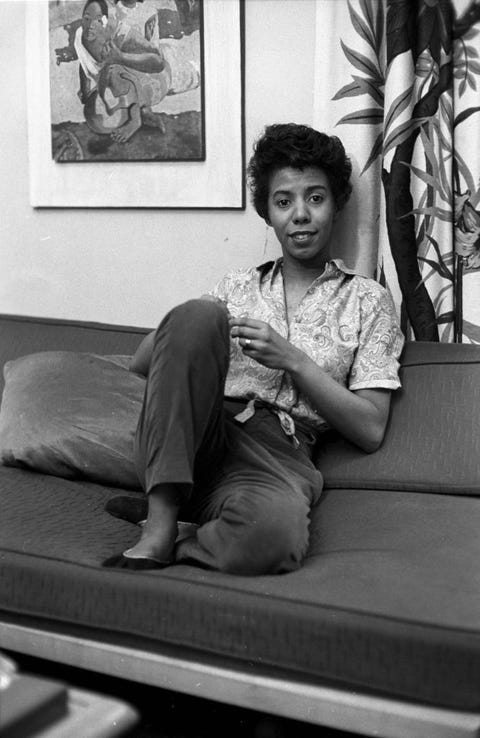 Lorraine Hansberry
Playwright Lorraine Hansberry, the first Black woman to have her play (A Raisin in the Sun) performed on Broadway, reclines in her Bleecker Street apartment. Today, the home is listed in the National Register of Historic Places.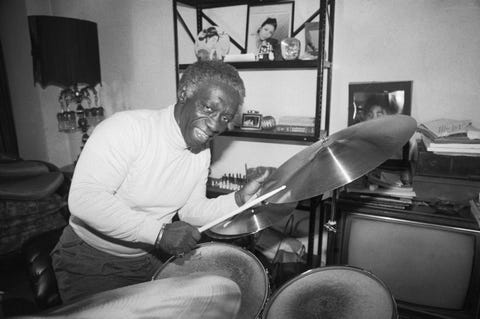 Art Blakey
Jazz drummer Art Blakey, the bandleader of the Jazz Messengers, lived on West 45th Street in 1978. He was renowned for his "hard bop" style of bebop.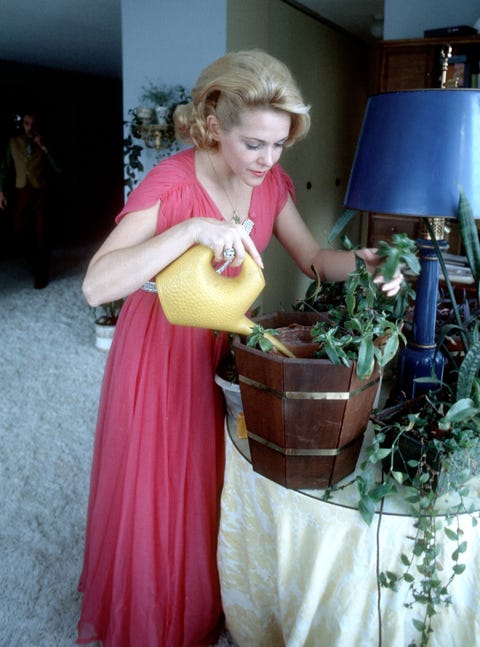 Eileen Fulton
For some 50 years, actress Eileen Fulton (born Margaret Elizabeth McLarty) starred on the CBS soap opera As the World Turns. Living in New York, she also took on theater roles throughout her career.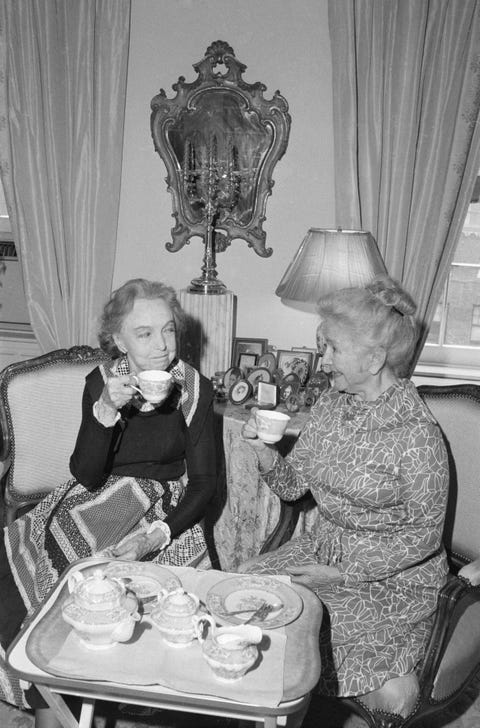 Lillian Gish
Actress Lillian Gish invites friend and fellow actress Helen Hayes to tea in her home in 1977. Gish lived in many of the city's iconic hotels before moving into her late mother's apartment in 1948.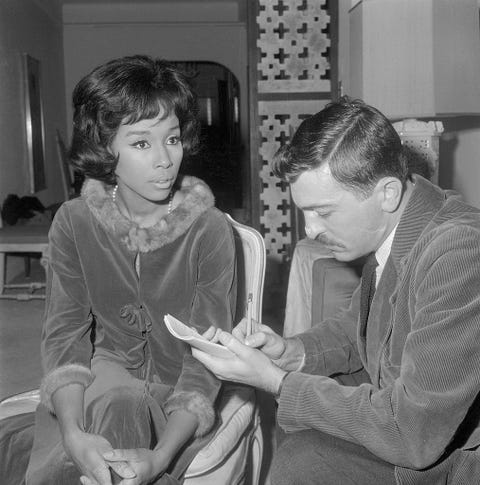 Diahann Carroll
Diahann Carroll was the first Black woman to win the Tony Award for Best Actress in a Musical (for No Strings, in 1962). Here, she's interviewed by reporter Charles Justice in her Central Park West apartment.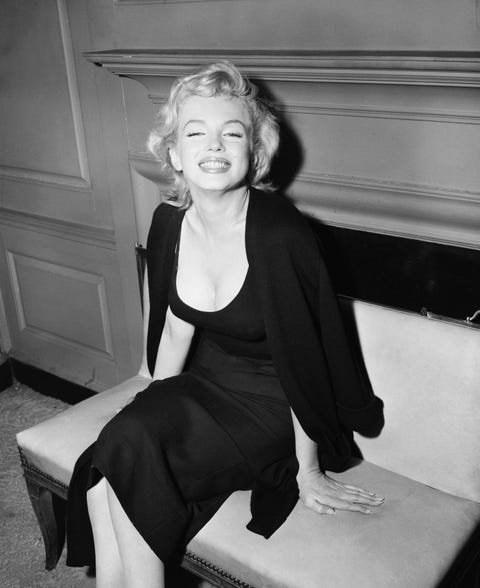 Marilyn Monroe
Photographers swarmed actress Marilyn Monroe in her Sutton Place apartment in 1956, when her fiancé, playwright Arthur Miller, testified before the House Un-American Activities Committee. She would marry Miller later that year.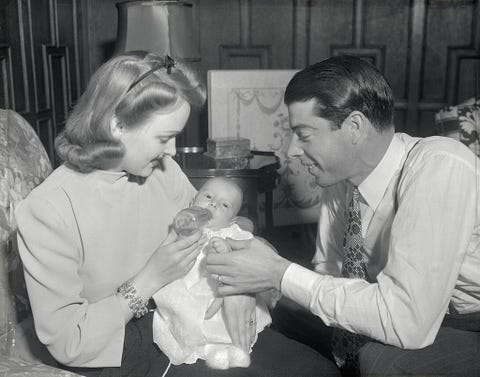 Joe DiMaggio
The baseball star, who played for the New York Yankees his entire career, is pictured here with his first wife, Dorothy, and their son, Joe DiMaggio Jr., in their New York apartment. He later married Marilyn Monroe.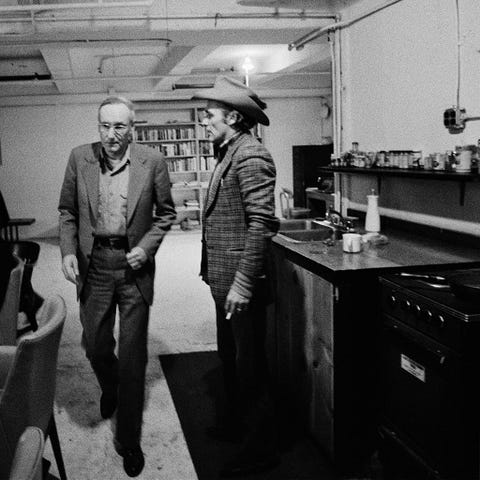 Caterine Milinaire
Getty Images
William S. Burroughs
Writer William S. Burroughs lived at 222 Bowery on Manhattan's Lower East Side in an apartment dubbed "The Bunker" (for obvious reasons, per this photograph). He's pictured with actor and filmmaker Dennis Hopper (right) here.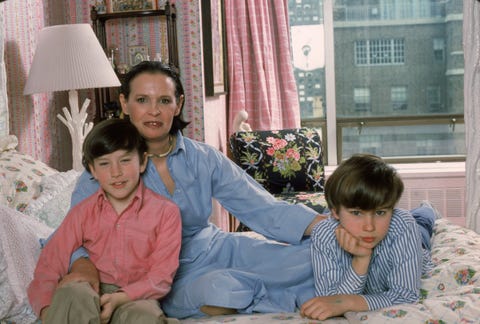 Susan Wood/Getty Images
Getty Images
Gloria Vanderbilt, Anderson Cooper, and Carter Vanderbilt Cooper
Socialite Gloria Vanderbilt, pictured here with her sons Anderson Cooper and Carter Vanderbilt Cooper, was famous for her over-the-top decor style. This photograph shows the trio sitting in their family apartment in the UN Tower in 1976.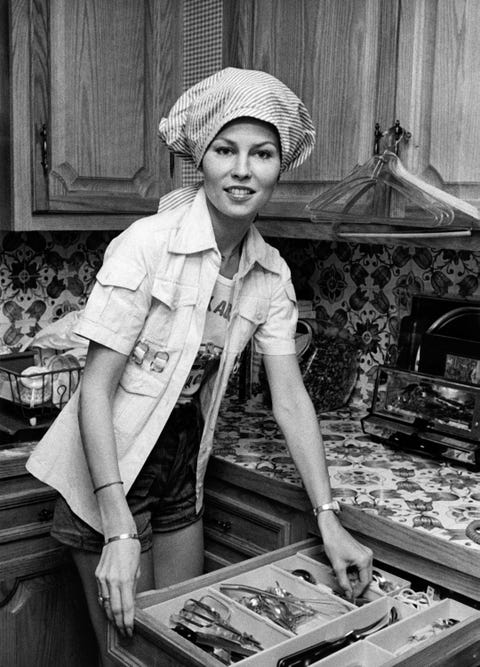 Cornelia Sharpe
Actress and model Cornelia Sharp poses during a 1975 photoshoot in her New York apartment. That year, she starred in the film The Reincarnation of Peter Proud.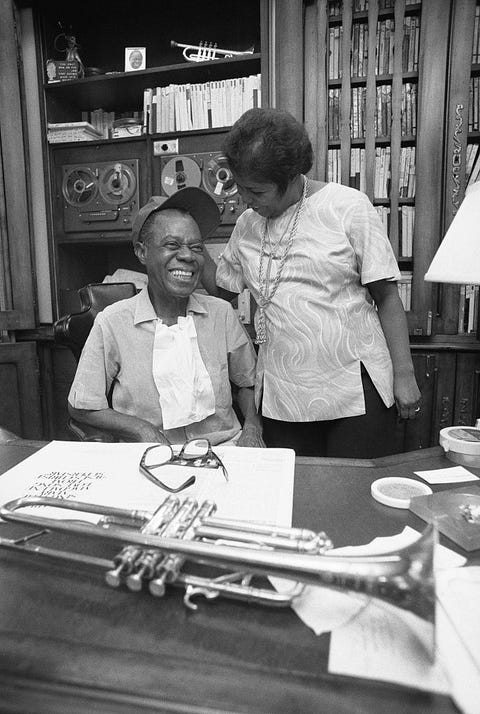 Louis Armstrong
Born in New Orleans, jazz musician Louis Armstrong moved to New York in 1924. Here, he's pictured with his fourth wife and native New Yorker, Lucille, at their home in Corona, Queens, in 1970.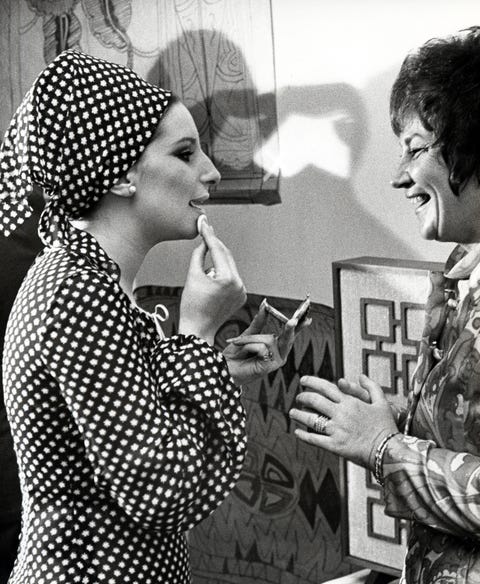 Barbra Streisand
The actress and singer is photographed with lawyer and activist Bella Abzug, for whom Streisand was hosting a party in her New York City apartment. Streisand lived at the Ardsley on Central Park West for 30 years.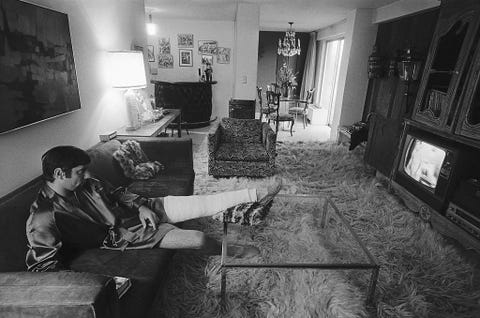 Joe Namath
New York Jets quarterback Joe Namath rests in his Upper East Side apartment in January 1968, while recovering from an injury. He retired from football a year and a half later.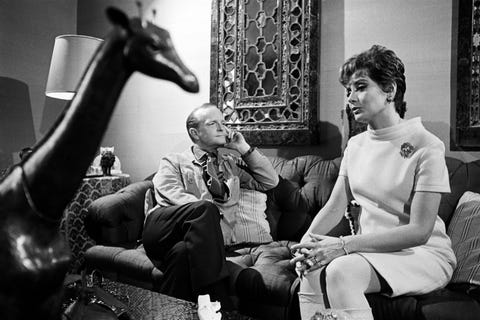 Truman Capote
Journalist Barbara Walters interviews writer Truman Capote in his New York home in 1967. For years, he lived in 860 United Nations Plaza, a popular spot for celebrities in the 1960s.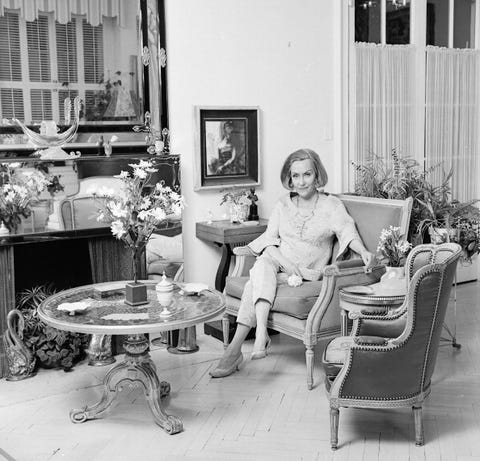 Jack Mitchell
Getty Images
Gloria Swanson
Actress Gloria Swanson sits for a portrait in her apartment in 1965. By this point, she had largely retired from film, but still appeared on television and the stage.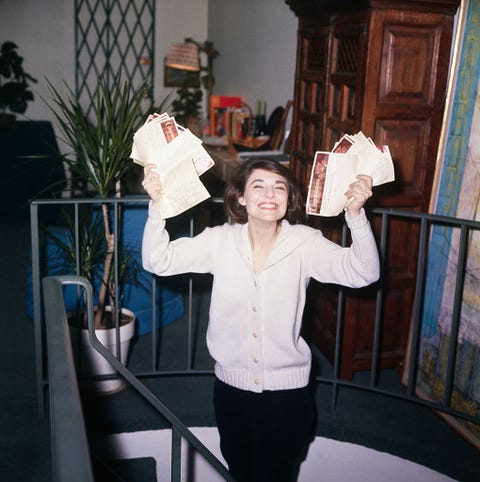 Anne Bancroft
A photographer captures Anne Bancroft in her Greenwich Village apartment after she won the Academy Award for Best Actress in 1963, for her role in The Miracle Worker.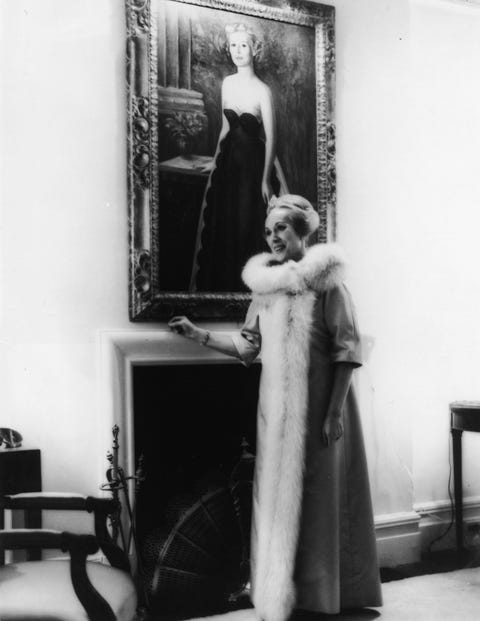 Authenticated News
Getty Images
Estée Lauder
Beauty executive Estée Lauder poses in her New York townhouse in 1962. She was born in Corona, Queens, in 1906; in 1998 she was included on Time magazine's list of the 20th century's most influential business geniuses. She was the only woman on the list.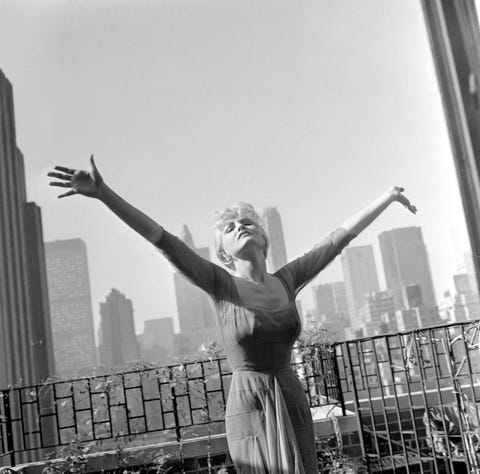 CBS Photo Archive
Getty Images
Julie Newmar
Actress, singer, and dancer Julie Newmar had quite the view from the terrace of her Beekman Place apartment. This photograph was taken in 1960; later that decade, she would go on to star in Batman as Catwoman.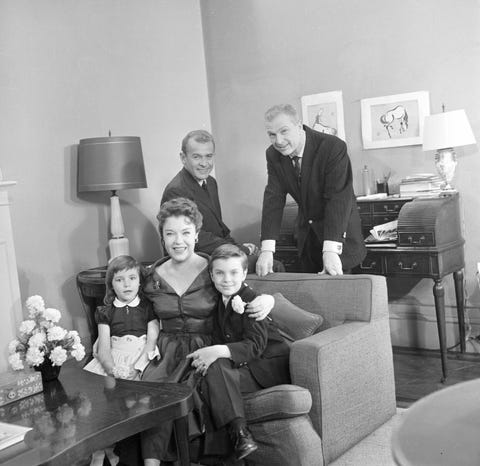 CBS Photo Archive
Getty Images
Eddie Albert
Actor Eddie Albert sits for a portrait with his family during the TV program Person to Person in 1960. He moved to New York in 1933, pursuing a future in entertainment after the stock market crash ended his business career.
This content is created and maintained by a third party, and imported onto this page to help users provide their email addresses. You may be able to find more information about this and similar content at piano.io