Inside the Extravagant Homes Sold on 'Selling Sunset'
Wait until you see the Versace house.
Is there anything better than watching Selling Sunset's Chrishell Stause tour $75 million homes in designer stilettos? Yes, that's right: $75 million. While the show brings plenty of drama, most viewers are more interested in the houses than the fights. Besides just being great television, each episode offers a unique glance inside some of Los Angeles's mind-blowing properties. Take a look at the most shockingly expensive, over-the-top homes ever featured on Selling Sunset.

WATCH SELLING SUNSET ON NETFLIX
The Outdoor Oasis in Hollywood Hills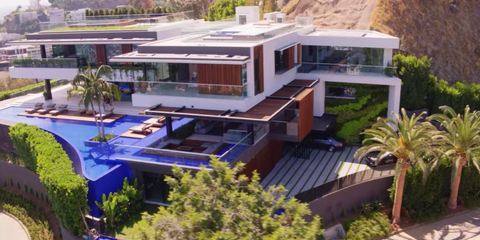 Five beds, nine baths, 20,058 square feet. Guess how much it costs. $44 million!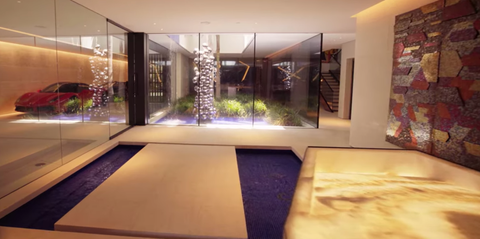 The 12-car garage has an actual waterfall.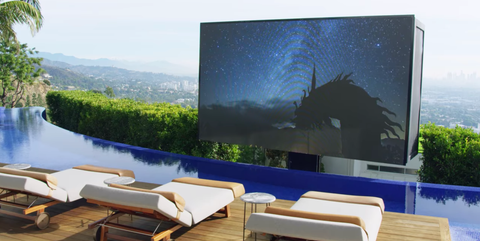 Nothing like cozying up by a billboard-size poolside screen for movie night. The owner paid hundreds of thousands of dollars to have the neighbor's roof covered in fake grass for a nicer view.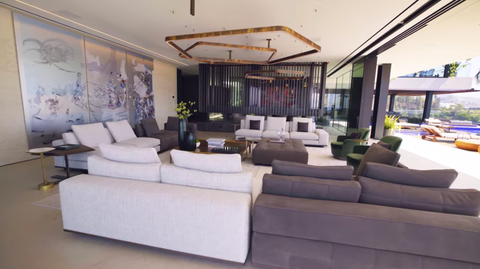 The 300-degree views in this space mean that pretty much every room opens up to the fresh air.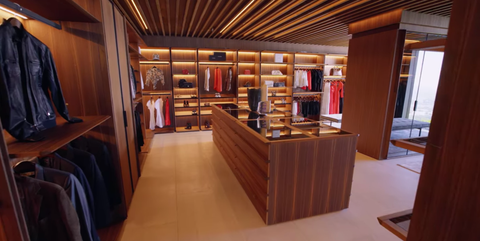 This walk-in closet is more like a mini shopping mall.
The Versace House in Los Angeles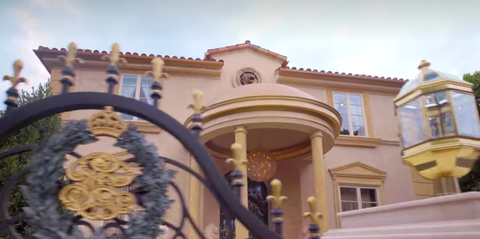 With five beds, six baths, and 8,542 square feet, this $9 million house has everything…Versace. No, really. Versace dishes, Versace glasses, Versace wallpaper, and Versace floors.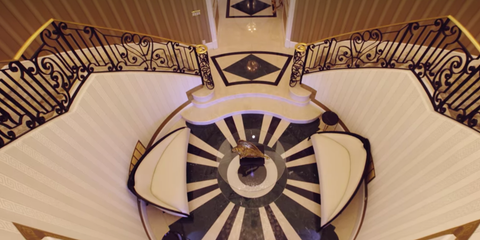 Even the staircase has Donatella Versace written all over it.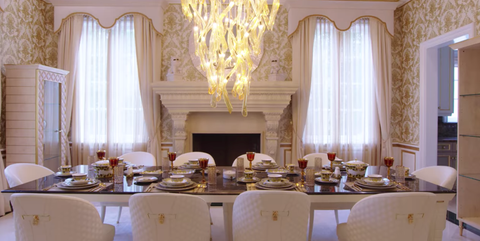 Imagine the dinner parties that happen inside this elegant space.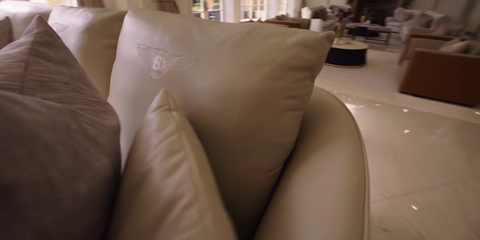 See that little "B" engraved on the couch? It stands for Bentley.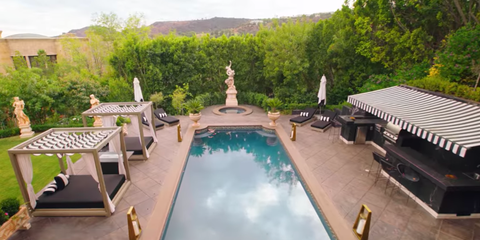 That cabana daybed is the best place to spend a summer day.
French Montana's Home in Calabasas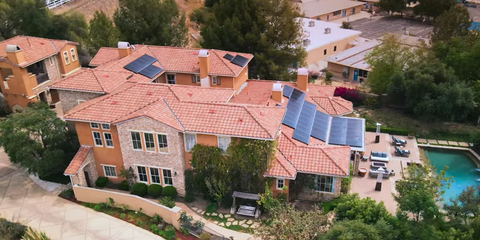 If only the perfectly decorated walls of this house could talk. In 2016, French bought this six-bed, seven-bath, 8,619-square-foot slice of heaven from Selena Gomez. Years later, Selling Sunset helped him land a $5 million offer for it.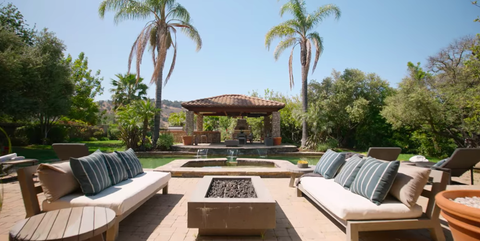 The backyard can only be described as a complete paradise.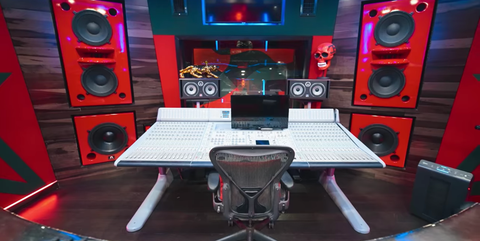 The musician spent $350,000 to build this recording studio and another $300,000 for the equipment.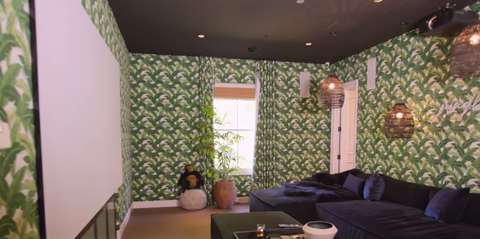 All of the boho decor explains why he decided to release an album called Jungle Rules.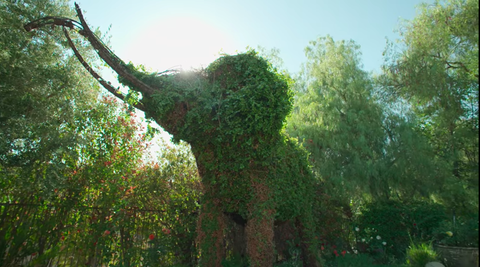 This fancy life-size elephant was a gift from Iggy Azalea!
The After-Party Hangout in Beverly Hills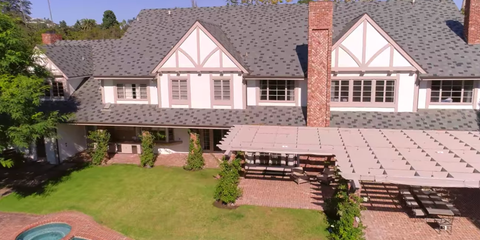 The $18 million property—with six bedrooms, eight bathrooms, and 11,588 square feet of space—used to be one of the hottest Oscars after-party venues in all of 90210.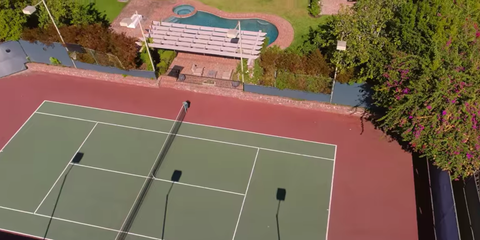 This is any tennis lover's dream backyard, complete with a "championship-size" court.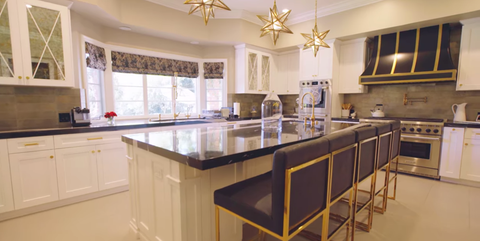 Those little star lights and gold-lined chairs add such a modern touch.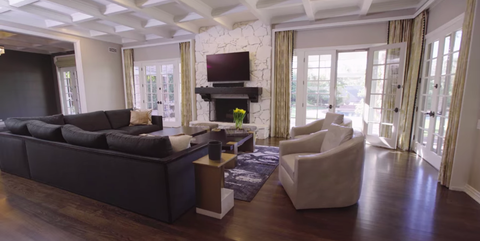 With a couch that size, you could host as many people as you want.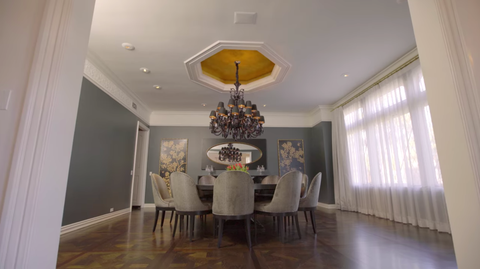 The perfectly-placed chandelier looks like it could be straight out of a museum.
The $75 Million Compound in Los Angeles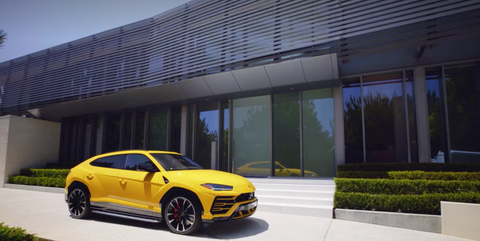 Sure, the outside looks more like an office building than a house—inside, though, is a different story. With 9 bedrooms and 12 bathrooms, this compound is 15,605 square feet of pure elegance.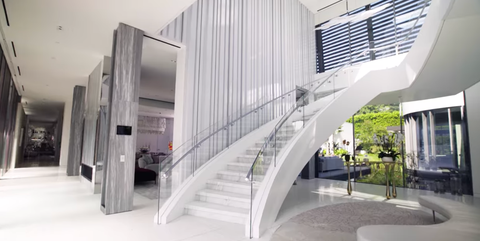 The glass railing, the white staircase, and the marble all seem inspired by Kim Kardashian's famous "minimalistic monastery" decor.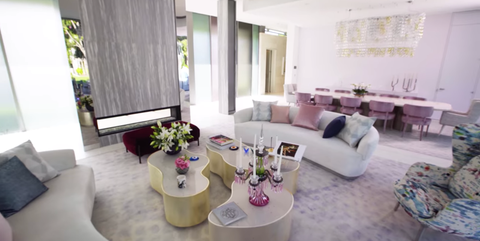 The pops of purple add such a fun touch to this already-perfect living space.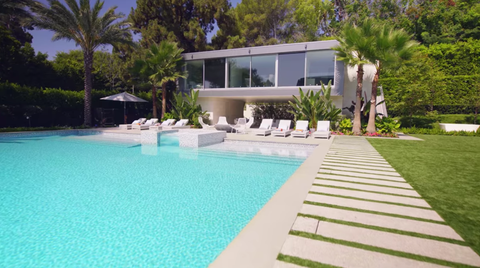 This backyard looks more like a resort than someone's house!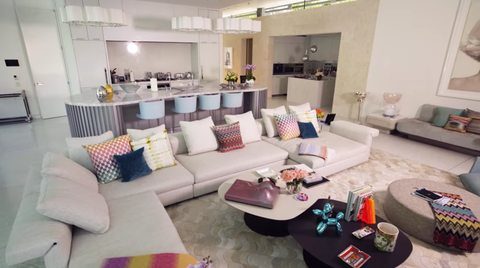 All of those pillows were probably expensive, but the added touch of warmth and comfort paid off here.
The Countryside Getaway in Los Angeles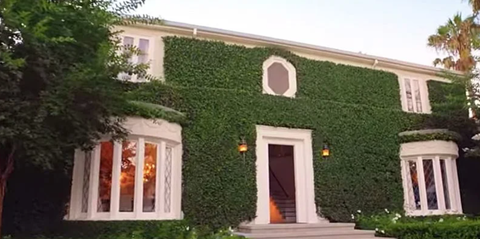 This ivy house is as green as the $9.75 million you'll have to spend to own it. For all you Selling Sunset superfans, you'll recognize the four-bed, five-bath, 6,060-square-foot space as Mary Fitzgerald's wedding venue.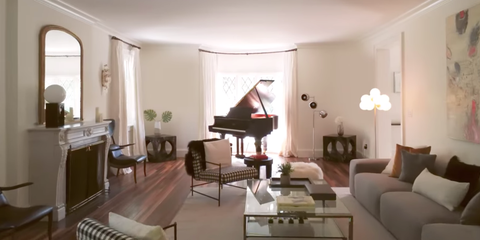 You can practically hear the piano playing in this surprisingly cozy room.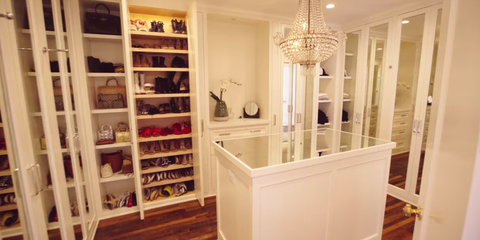 With its crystal chandelier and special jewelry counter, this walk-in closet looks like it was made for J.Lo.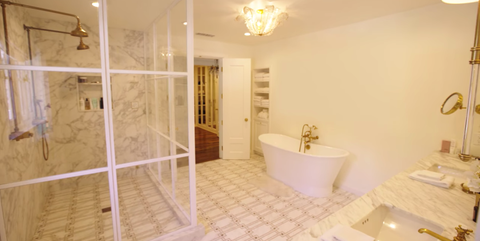 That shower is big enough to be a room of its own.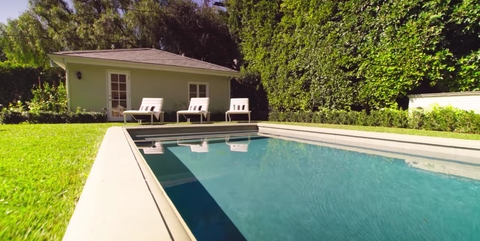 The private guest cottage is poolside, has a kitchenette, and probably costs more than most ordinary houses.
The Bachelor Pad in Hollywood Hills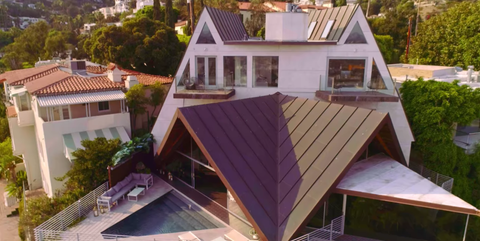 This three-bed, three-and-a-half-bath, 3,708-square-foot bachelor pad was designed by famous architect Harry Gesner. What does it cost? $5.49 million.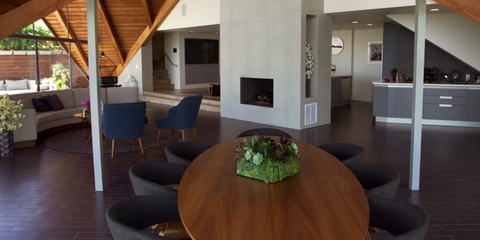 This open floor plan is stunning. The beams, the wood, the dark floor to offset the white walls—it's all so beautiful.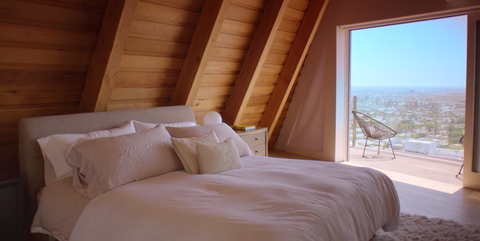 The master bedroom is like a cabin!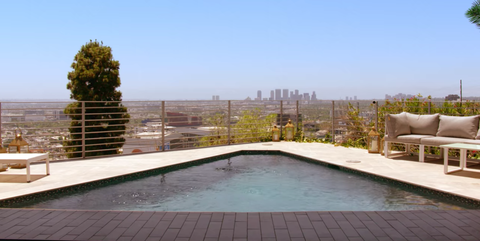 Even with the rather triangular deck, the builders found room for a pool.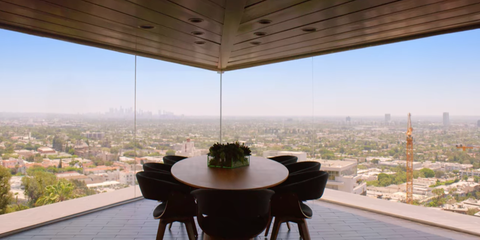 Selfie lighting doesn't get better than this.
The '50s Mansion in Los Angeles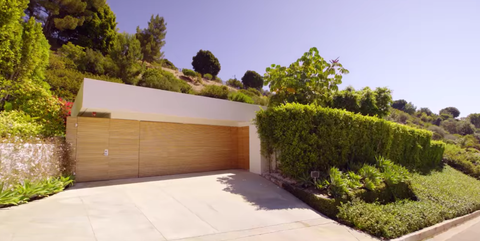 This four-bed, four-bath, 4,011-square-foot house was built in the 1950s, but you'd never know it. After years of major upgrades and renovations, get ready to spend $8.5 million to call it home.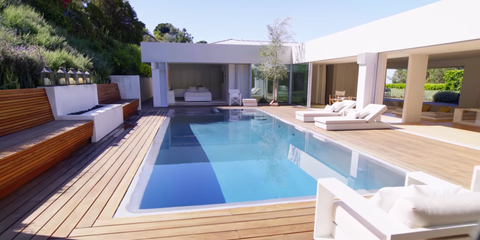 The zero-edge pool, custom wood deck, and fireplace bench cost a cool $500,000. Check out the bedroom in the back too.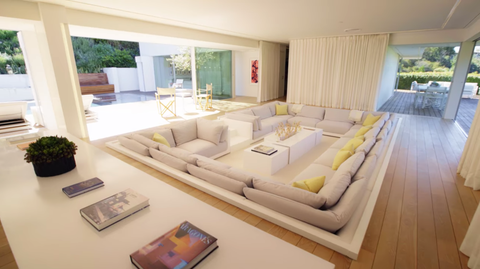 A sunken living room is rare to find in such a modern home, but it definitely helps keep a retro touch in the space.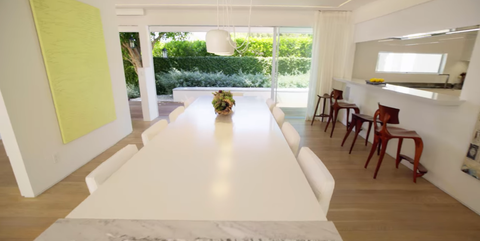 That kitchen table is so big, it looks like it belongs in a restaurant in downtown L.A.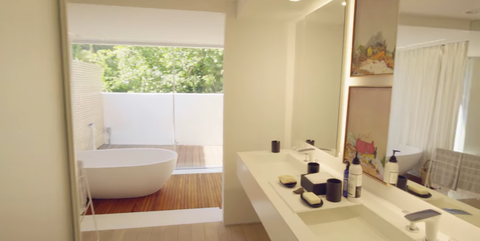 A good bubble bath in this sunlit tub would leave anyone feeling relaxed for days.
This content is created and maintained by a third party, and imported onto this page to help users provide their email addresses. You may be able to find more information about this and similar content at piano.io