What the American Home Looked Like Through the Years
Take a spin through a virtual yearbook of interior design history from 1940 to 2000.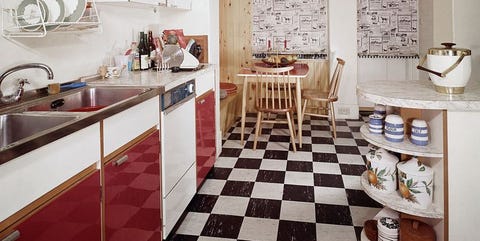 We might not have invented a time machine yet, but if you want to go back in history, that's pretty much possible through photographs. So, if you've ever been curious about what homes in the United States really looked like between 1940 and 2000, get a glimpse inside them here. Bring on the floral upholstery, patterned wallpaper, and shag rugs!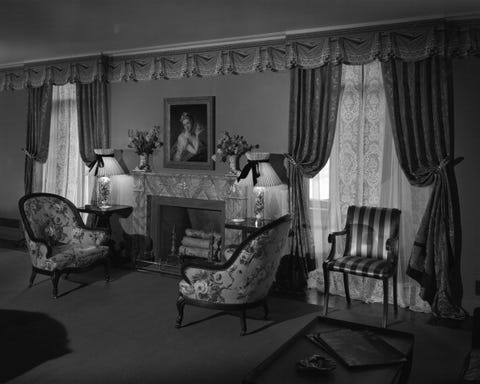 Chicago History Museum
Getty Images
1940
The first half of the 1940s were defined by World War II. Because many materials were unavailable during the war, decor stayed relatively static—this 1940 living room has classic '30s hallmarks, including damask curtains.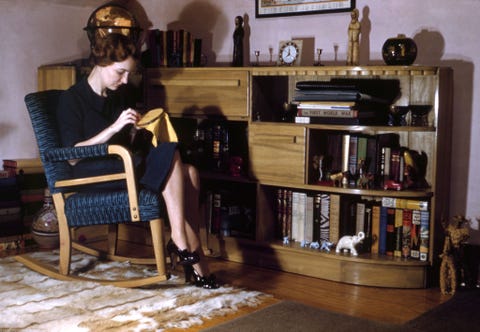 Jim Heimann Collection
Getty Images
1941
Still, evidence of the technological advancements of the 1930s made their way into the residential design world. Here, the curved lines of the furniture have a Streamline Moderne quality about them—the design movement was inspired by aerodynamic design.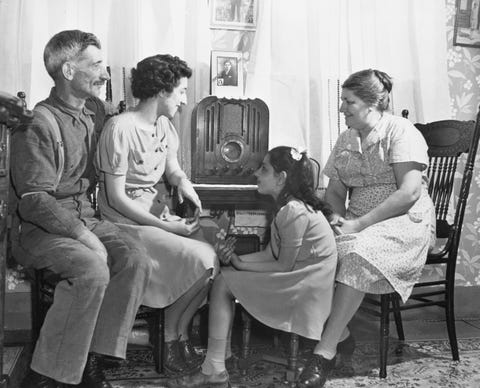 1942
In the early 1940s, radio was still the primary form of living room entertainment. Though televisions had been invented, they were far more expensive than radios, which were found in more than 80 percent of American homes at the time.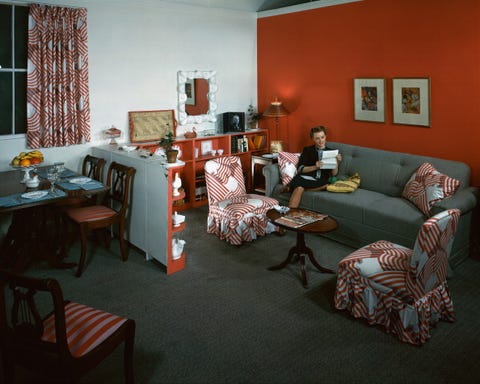 Chicago History Museum
Getty Images
1943
The beginnings of the midcentury modern design movement started to take root in the 1940s. But it didn't flourish until after the end of World War II.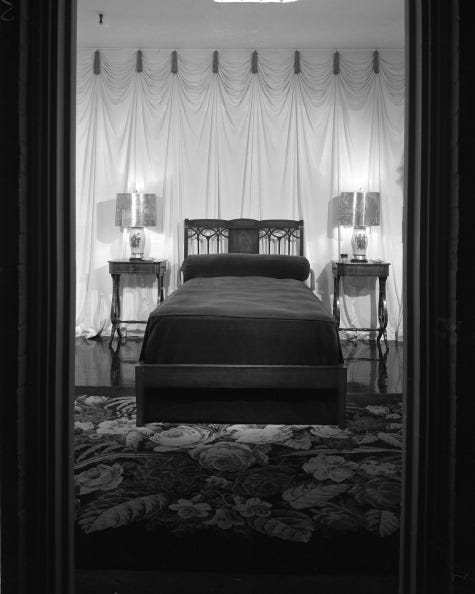 Chicago History Museum
Getty Images
1944
Art Deco and Art Nouveau were still popular in the first half of the 1940s. The geometry of the wall hanging is very Deco in nature, while the organicism of the headboard is more Nouveau.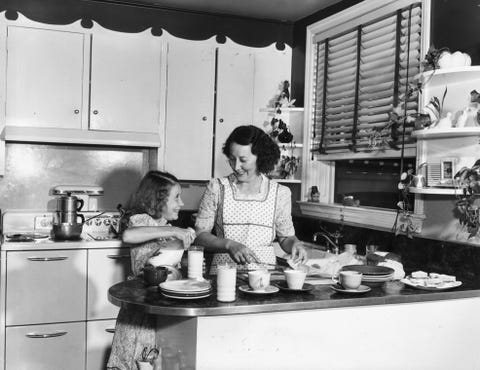 Harold M. Lambert
Getty Images
1945
In the 1940s, kitchens were quite compact. They did, however, benefit from modern appliances.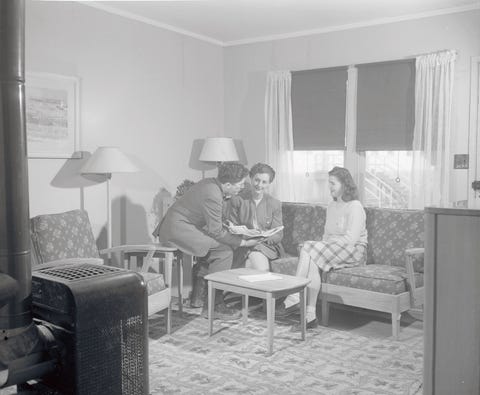 1946
Florals were definitely popular in the 1940s, especially in upholstery, though they'd soon make way for more modern design. As with all design trends, however, they come back!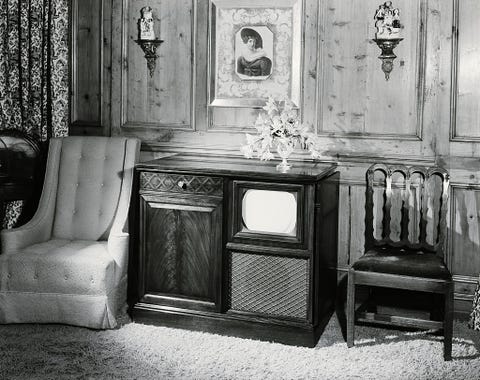 1947
The '40s were a transitional period. Here, a TV set makes an appearance in an otherwise pretty traditionally decorated living room.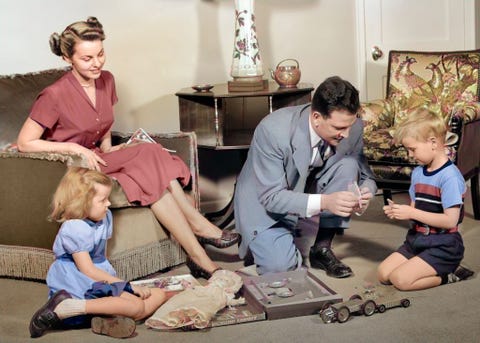 H. Armstrong Roberts/ClassicStock
Getty Images
1948
Chinoiserie might've been more of a 19th-century fad, but it made a strong comeback in the 1930s. And its presence continued well into the 1940s, especially as international travel and trade opened up in the postwar years.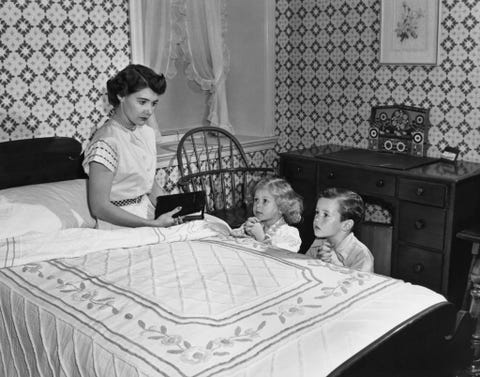 Harold M. Lambert
Getty Images
1949
Patterned wallpaper was quite popular in the 1940s. Instead of a traditional floral motif, this one in a bedroom features a more abstract design.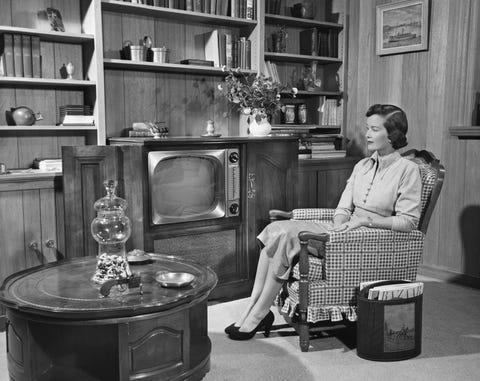 1950
By 1950, televisions were becoming more popular in American homes. But that didn't stop people from continuing to decorate with a more rural style—take, for instance, this gingham-upholstered chair.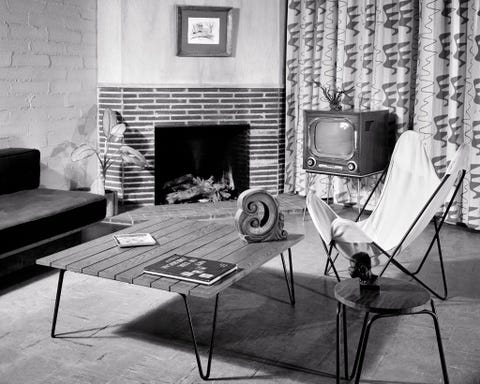 American Stock/ClassicStock
Getty Images
1951
The Butterfly chair, officially called the Hardoy chair or the BKF chair, was developed in Argentina in the 1938, but it became a huge success in the U.S. in the 1940s after it was produced by Artek-Pascoe and Knoll. But once the design entered the public domain in 1951, its popularity exploded, with some five million copies produced within a decade.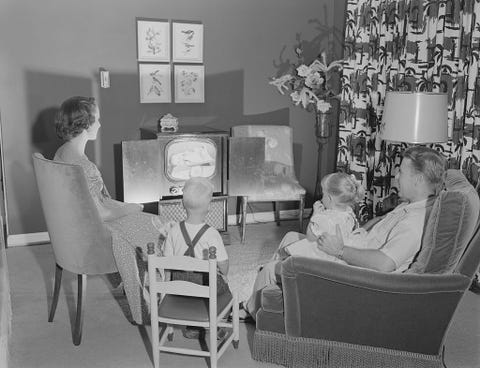 Harold M. Lambert
Getty Images
1952
Tropical motifs like this curtain were all the rage in the 1950s, not only in interior design, but also fashion. The fringed armchair, however, is left over from the 1930s and 1940s.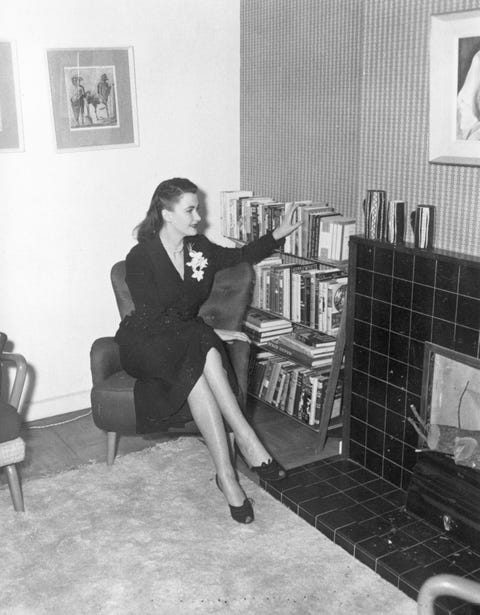 Daily Herald Archive
Getty Images
1953
Tiled fireplaces were on-trend in the 1950s—they were a revival of an Art Deco stylistic choice. And wallpapers, especially geometric patterned ones, were also going strong.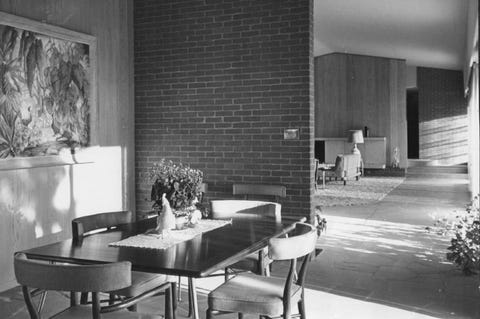 1954
Open floor plans took off in the 1950s. They became a signature of midcentury modern homes.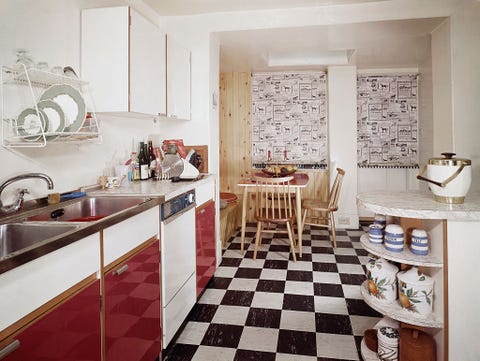 Hulton Archive
Getty Images
1955
Nothing says "1950s" like a black-and-white checkered linoleum floor. But here, it's paired with country details, including Shaker-style chairs and painted porcelain jars.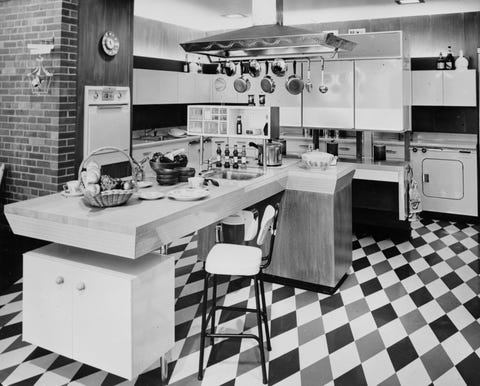 Keystone Features
Getty Images
1956
Kitchens began to grow in size in the '50s, in part because of the need for extra space for all the new appliances being developed and added into homes. In this house, there's a dishwasher and a garbage disposal.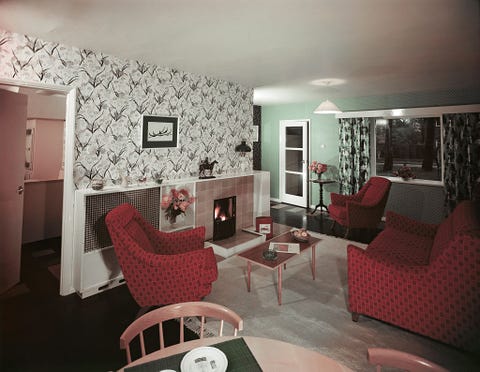 Hulton Archive
Getty Images
1957
Pastel colors, particularly mint green and baby pink, were two of the most popular colors for interior design. Interestingly, they were often paired with red accents.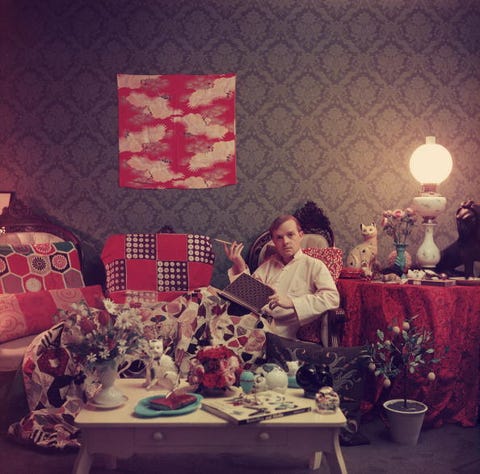 1958
Truman Capote had an unabashed flair for maximalism, which was losing out in popularity to minimalism by the late 1950s. Still, Capote's home has touches of other popular '50s trends, like Chinoiserie, patterned wallpaper, and a red palette.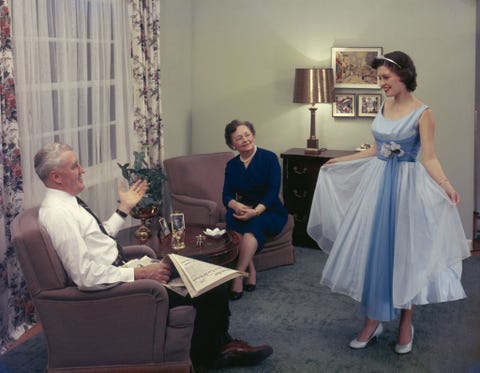 Harold M. Lambert
Getty Images
1959
It's not always about incorporating all of the latest and greatest trends into your home. This simple living room stuck to the basics when it came to furnishing, though the colors are decidedly 1950s.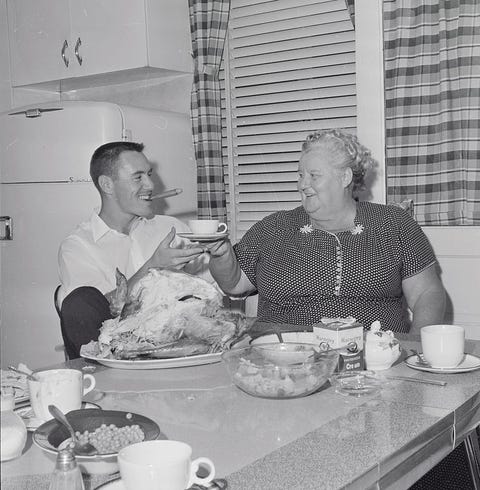 1960
Curved fridges are Smeg's signature these days, and in 1960, the appliance's silhouette was found in kitchens across the country. Check out that Formica table, too.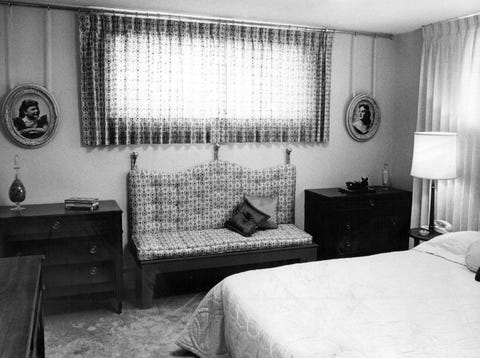 1961
The matching curtains and bench upholstery have a funky pattern that feels very '60s. But there's still quite a bit of traditional decor here, like the two oval framed portraits.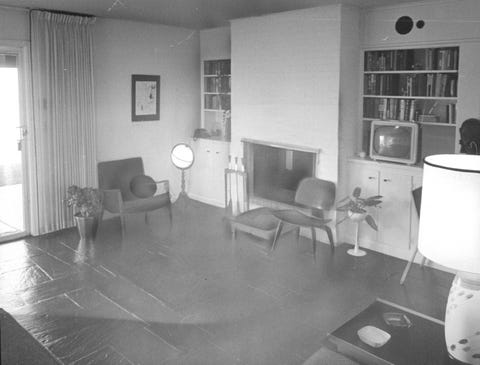 1962
Slate floors, often with different colored stones, became very popular in midcentury homes. The chair in front of the fireplace is an Eames Molded Plywood Chair, designed in 1946 and named by Time magazine as "The Best Design of the 20th Century."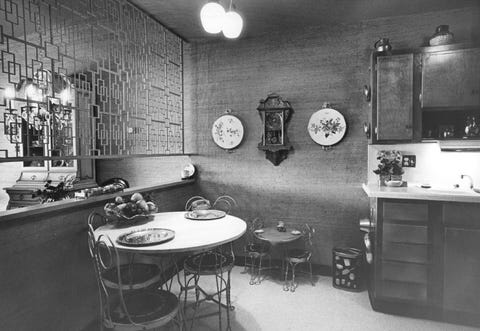 1963
Within open floor plans in midcentury homes, room dividers provide some distinction between rooms. This one takes on a Chinese-inspired pattern.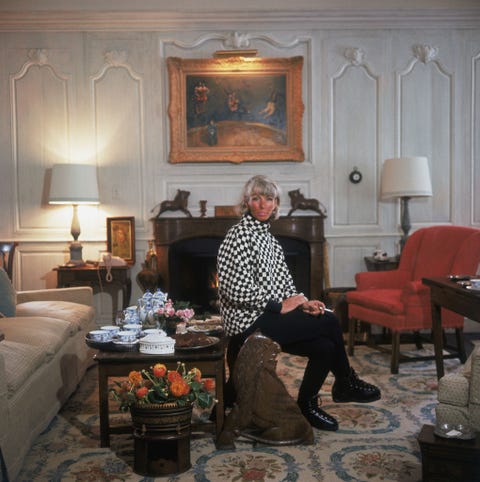 1964
It's not always about the über modern in the 1960s. Socialite Ann Bonfoey Taylor's Vail home shows how traditional decor was still en vogue.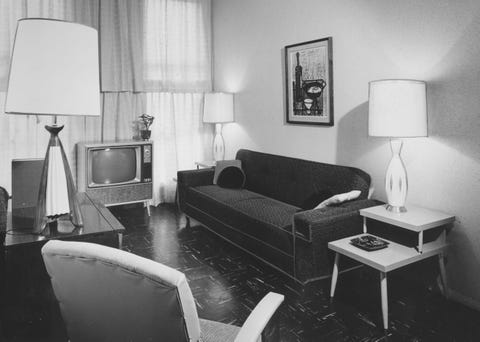 Afro Newspaper/Gado
Getty Images
1965
Lighting design changed greatly in the 1960s. Fixtures became far more sculptural in form.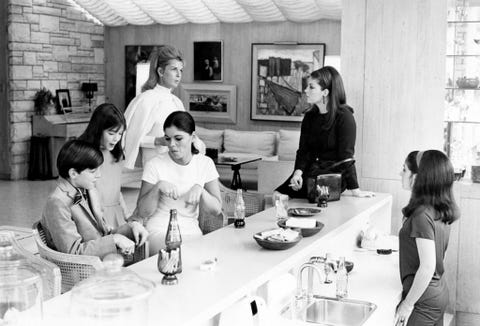 1966
Open floor plan, large kitchen, vaulted ceiling—this house checks all the midcentury modern boxes. (It's the Los Angeles home of singer Dean Martin.)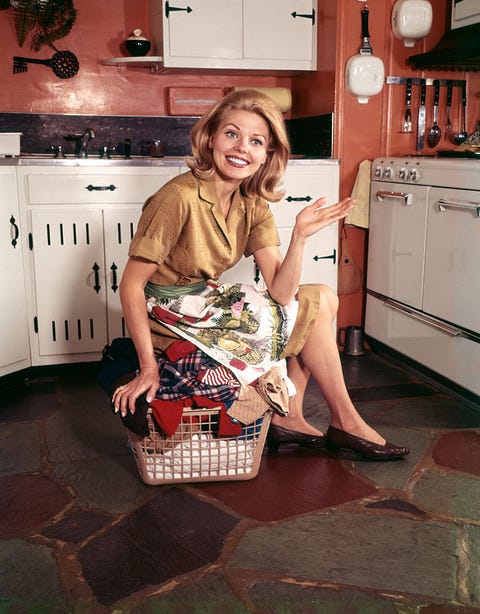 H. Armstrong Roberts/ClassicStock
Getty Images
1967
Now you can see the multicolored slate flooring in its full magnificence! The material was used throughout the house, from the kitchen to the living room to the patio.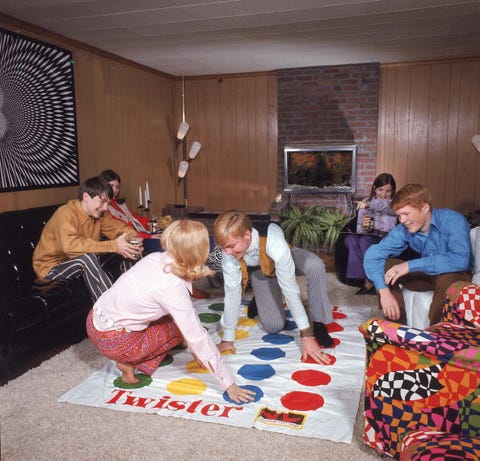 Hulton Archive
Getty Images
1968
This basement showcases some of the bolder design trends of the late '60s, namely the Op art on the wall and the colorful chair. But it also showcase some of the more neutral, like the wood-paneled walls.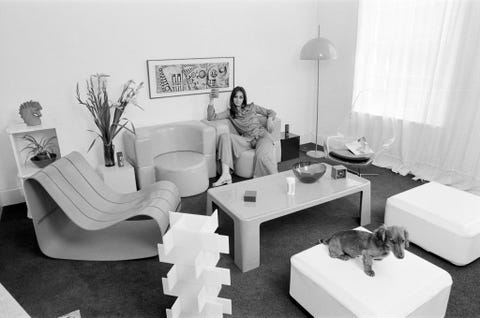 1969
Though most American households wouldn't have such a complete set of modern furniture, this photo shows some of the more minimalist yet avant-garde works of furniture design from the period. Take note of the acrylic chair—you almost can't see it.
This content is created and maintained by a third party, and imported onto this page to help users provide their email addresses. You may be able to find more information about this and similar content at piano.io